Safe travel for Tiana and her family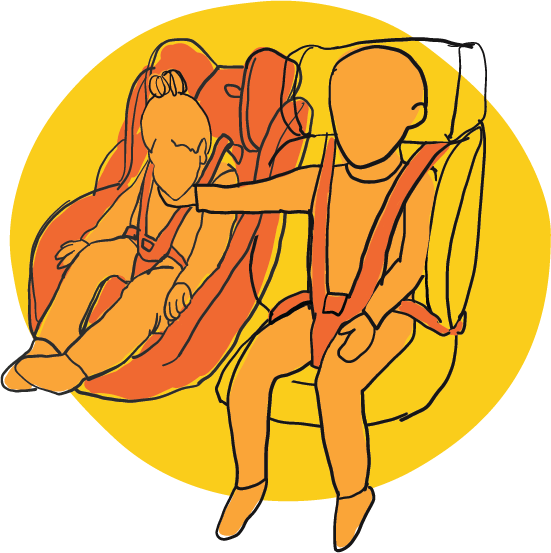 Client profile
Tiana is a three-year-old girl, with a diagnosis of Cerebral Palsy (GMFCS V) after hypoxic ischaemic encephalopathy. She lives in Tarneit, Victoria.

Step 1: Assess
Tiana lives at home with her parents and two siblings, aged six and four. She is mainly transported in her mother's car, for about 30-60 mins per day, generally for school drop off/pick up for siblings, and to and from medical appointments and therapy. The vehicle is a 2017 Subaru Forester with ISOFIX low anchorages.
Tiana currently travels in a forward facing Australian standard car seat - which is no longer providing adequate postural support and comfort. Even though the car seat is reclined, due to Tiana's muscle tone and posture, her head often falls forward.
Tiana's mother reports that she often becomes distressed in her car seat and cries, requiring her to frequently stop the car to reposition her. This distracts Tiana's mother and also distresses her siblings, making car travel stressful for all family members and impacting significantly on the family's ability to get out and about.
In addition, Tiana's parents report they are finding it more and more difficult to lift and position Tiana into her car seat.

Step 2: Plan
After careful assessment, Tiana's OT, Jo, investigates a range of options.
Jo identified that Tiana needs features such as extra recline, lateral supports and a swivel base to assist with transfers. As these features are only available with special purpose car seat, Jo reviews the available special purpose car seats and selects two car seats to trial.
During the trial, Jo observes and documents that the postural supports in both car seats enable Tiana to sit more upright, providing better respiratory/airway management. The parents find the swivel base helpful in transferring Tiana in and out of the car.
Whilst both car seats meet Tiana's needs the parents and Jo select the narrower car seat as they need to fit three car seats in the back seat to accommodate their three children.

Step 3: Implement
Jo prescribes the selected special purpose car seat with swivel base for Tiana.
Jo completes the Advice to Parent form. In the section about installation and use, Jo documents the arrangements for installing, including that the car seat must be used with the vehicle seatbelt at all times when travelling (the harness only provides postural support).

Jo completes documentation inline with the NDIS reasonable and necessary requirements. When the funding is received Jo arranges for the supplier to meet with herself and Tiana's parents. The supplier installs the car seat, and provides the parents with education about the correct fitment and use. Jo ensures Tiana is sitting comfortably and educates the parents in safely transferring Tiana in and out of the vehicle.
Jo completes the referral letter for Tiana's mother to obtain a medical certificate from Tiana's doctor. This is required to legally use a special purpose car seat in Victoria. She also updates the review period on the Advice to Parent form to three months, to ensure that the selected restraint continues to meet Tiana and her family's needs.

Step 4: Review
Jo sets a review period of three months, to re-assess Tiana's fit and comfort in her special purpose car seat and to address any concerns or questions Tiana's family may have.
Tiana's comfort increased significantly in the special purpose car seat, improving Tiana and her family's safety and travel experience.
Share with us
We would like to add more case studies from Australian health professionals. Please share your case studies with us.