Terms and conditions
Last updated: 17 September 2021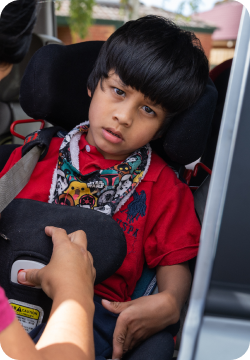 Welcome
Welcome to http://macahub.org (the 'website'). The website is operated by Mobility and Accessibility for Children in Australia Ltd (ABN 11 867 258 483). Access to and use of the website, or any of its associated products or services, is provided by Mobility and Accessibility for Children in Australia Ltd (MACA).
You may be using this website to find information about transportation of children with disabilities and medical conditions and to find out about others' experiences. Nothing in this website should be considered, or used as a substitute for, medical advice, diagnosis or treatment. You should always talk to a health care professional for diagnosis and treatment, including your specific medical needs.
These terms of use form an agreement between you and MACA, whether you are sending us a message via contact us, registering to attend training or receive email newsletters or simply browsing the website. They will inform you about your rights and obligations in using this website. By accessing and using the website you agree to be bound by and abide by these terms of use.

Please contact us if you have any questions about these terms of use.
The Terms of Use may change from time to time, so please re-visit every so often.
If you continue to use the website following any changes to the terms of use, you are accepting those changes.
You can check when these terms of use were last updated by referring to the 'last modified' date in the header of this page.
Terms of Use
Use: You may use this website for personal or educational use only. You may not modify, transmit or revise the contents of this website without the written permission of MACA.
No warranties as to content: To the extent permitted by law, MACA makes no warranties or representations about, and does not guarantee the accuracy, reliability, currency or completeness of this website or its content.
Links to other websites: We take reasonable care in linking MACA to other websites, but we have no direct control over the content presented in those websites or the availability of those websites. Links and frames connecting this website to other websites are provided for your convenience. These links do not constitute endorsement of material at those sites, or any associated organisation, product, or service. Inclusion of links to a third-party provider does not imply endorsement of a product or provider. MACA does not accept liability for any claims or losses arising directly or indirectly from services or products provided by third party providers.
Exclusions and limitation of liability: MACA and its employees and agents exclude, to the maximum extent permitted by law, all warranties (whether express, implied, statutory, or otherwise) in relation to this website or its content, or the content on websites accessed or accessible via this website. To the extent permitted by law, MACA, its employees and agents accept no liability (including for negligence) for any loss, damage or expense you may suffer through use of this website or reliance on its content including by reason of:
any person relying on any of the content of this website, or any sites linked (or connected by other means) to this website whether by reason of any error, omission, or misrepresentation in the content.
any errors or omissions on this website (whether or not due to the negligence of the MACA, its employees or agents).
this website being unavailable for any reason, including any delay or interruption in access to or use of this website (whether or not due to the negligence of MACA, its employees or agents); or
the transmission of a computer virus from accessing this website.
MACA excludes all liability for loss of opportunity, lost revenue, lost profits, loss of data and losses or any consequential loss.
Nothing in these terms of use intends to exclude, restrict or modify any rights you have under consumer protection laws, including by limiting our liability or imposing liability on you in a manner which would be considered unfair under the relevant consumer protection laws.
Professional advice: The content of this website has been compiled for general information purposes only and does not include any medical, legal, financial, or other professional or non-professional advice and may not take into account your personal circumstances. You should seek independent advice from a qualified professional/advisor before acting on the content in this website, or any websites linked to this website.
Copyright and Intellectual Property: You understand that the content, materials and other components (including for example content, training materials, logos, graphics, etc) available on the website belong to us, our content providers or licensors, and are protected by copyrights, trade marks, service marks or other proprietary rights and laws around the world.
Nothing in these terms of use constitutes a transfer of any intellectual property rights.
You agree not to sell, license, rent, modify, alter distribute, copy, reproduce, transmit, publicly display, publicly perform, publish, adapt, edit or create derivative works from content or materials on the website. You also agree that you will not use the content and materials on the website for any purpose not expressly allowed in the terms of use. You may use the resources in your professional capacity but you must not commercialise the materials or resources on this website.
Website availability and access: We try to offer the website without interruption however, this may not always be possible and we may alter, suspend, or discontinue the website in whole or in part, from time to time.
We may, in our sole discretion, terminate or suspend your use of or access to all or part of the website with or without notice, where there are serious grounds for doing so (e.g. if you breach these terms of use). If we notify you that your access to and use of the website is terminated, you must stop using or accessing the website immediately.
Severability: Each paragraph of these terms of use operates separately. A term or part of a term of these terms of use that a court determines is illegal or unenforceable will be severed from this document and the remaining terms or parts of terms continue in force.
Waiver: Even if we delay in enforcing these terms of use, we can still enforce them later. If we do not insist immediately that you do anything you are required to do under these terms of use, or if we delay in taking steps against you in respect of your breaking this contract, that will not mean that you do not have to do those things and it will not prevent us taking steps against you at a later date. Any failure by us to exercise or enforce any one or more of our rights under these terms of use will not constitute a waiver of such rights unless such waiver is granted to you in writing.
Governing law: These terms of use are governed by the laws of Victoria, Australia and in the event that there is a legal dispute, Victorian courts will have non-exclusive jurisdiction.
Privacy: MACA takes your privacy seriously and any information provided from your use of the website are subject to the website privacy policy.