Babies with medical conditions
Babies with medical conditions such as prematurity, spinal muscular atrophy and omphalocele require specialised assessment to support safe transport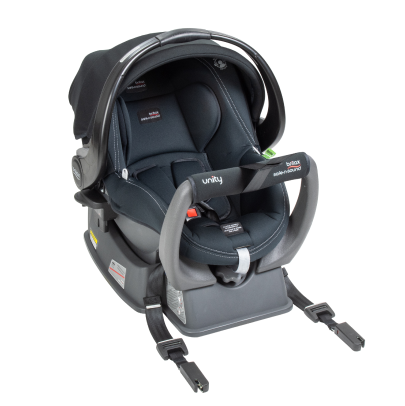 Planning for premature and low birth weight babies
According to the National Child Restraint Best Practice Guidelines, parents of small infants (<2.5kg) should use a rearward facing Australian standard car seat designed to accommodate low birthweight infants. In Australia today there are two options available, the Britax Unity™ and the Maxi Cosi Mico 12 LX,
Both products can be removed from the base (installed in the vehicle) and clicked into a compatible pram.
Parents or carers of premature and low birth weight infants should minimise the time babies are in a child restraint, and observe the child while in the seat when possible, to minimise the risk of apnoea (a stop in breathing).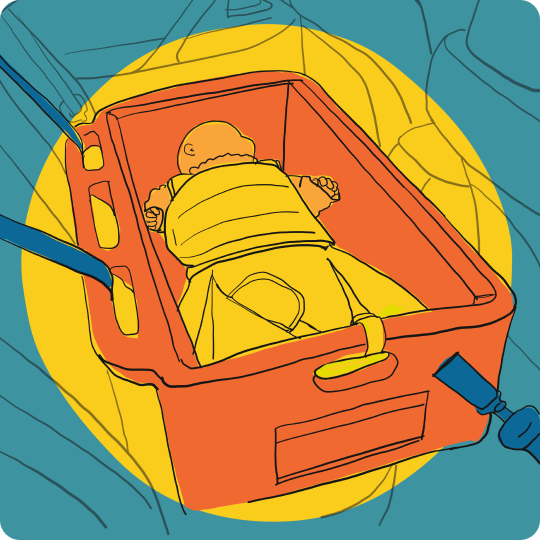 Lie flat child restraints
Some babies with conditions such as spinal muscular atrophy and sleep apnoea are unable to be transported in a recline position. Lie flat child restraints are a type of restraint that allow the baby to be positioned lying down for car travel.
However, currently there are no lie flat child restraints available in Australia, impacting on the safety, health and well-being of these medically vulnerable children. This means that babies with severe respiratory needs may need to be transported by non-emergency patient transport, lying flat.
Read more about what MACA is doing to address the gap in lie flat child restraints in Australia.
Planning for babies with omphalocele
Omphalocele is a rare birth defect that occurs in 1 in 4,000 - 7,000 live births. It is a type of abdominal wall defect in which the bowel, liver and other abdominal organs extend into the abdomen near the base of the umbilical cord.
Due to the fragility of the baby's skin and the lack of musculature over the abdominal organs that reside in the sac, care must be taken to protect the exposed organs from injury. For this reason, babies with omphalocele have special needs in relation to their placement and positioning in child restraints. There is a risk that child restraint straps could put a dangerous level of pressure on the abdomen if emergency braking or a crash occurred.
There are different approaches throughout Australia and globally to the transport management of babies with this condition. For example, some hospitals use a padded plastic cover that is placed over the omphalocele, and the car seat straps are secured over the top of it. Whilst in America, an omphalocele specific car seat is available, which does not provide a cover over the omphalocele.
There is no research to inform a best practice approach to transporting children with this condition. MACA is advocating for research and inclusion of transport of children with omphalocele in future AuSAP activities.